As in person meetings and events resume all over the United States, many conferences are implementing another layer of health securities. To provide ease and bring confidence to attendees many conferences are introducing pre event, onsite, rapid Covid-19 antigen testing for attendees. Harry Brelsford recently attended the Acronis conference where he experienced onsite conference testing first hand.
Watch and learn what Harry experienced.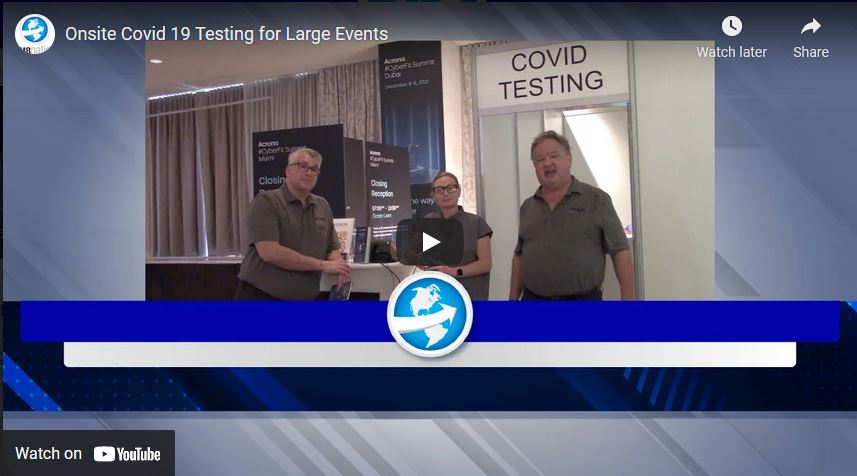 Video Transcription
Harry Brelsford
Hey Nation, nation Harry here back with a friend of the family. Tim Kubiak we'll get to Tim in a second. It is the end of the Acronis cyber fest summit 2021 here in Miami, Florida. That's a that's a whole nother conversation. But what was really cool was what I observed with the COVID protocol to be able to pull off a conference with a fairly large number of attendees. And here was my experience. And then we'll double click into the details. But upon arrival, I had to get a quick COVID test with some activity I had in the last week, it just wasn't possible to had a pre existing COVID negative tests 72 hours before my arrival. So I came here, I was telling me this young lady right here in on Sunday, and got the test. And by the time I got to my room I was allowed to check in, I was not allowed to register for the conference without that evidence. But I got a text that the COVID test came back negative. The other thing that stood out was each and every day they had these high tech thermometers that you stare at, and it will give your temperature so you had to have a lower temperature below whatever 100 or something to be able to enter the floor for the thing. So Tim, over to you.
Tim Kubiak
Sure. So first of all, just a little bit about your company, company's name and how this work for you.
HiVi concierge
Sure, absolutely. So the name of our company is HiVi concierge. We do COVID testing, various options. And we do IV vitamin infusions as well. But for today, and for this event, we did just COVID testing.
Tim Kubiak
So it was an interesting thing, because I'm the guy who never read this email before it's here. So I went down to the booth down there. And then from this folks sent me literally hopping around in and within 20 minutes, I got registered using your QR code here, right, gotten my test stood outside the barricade and then got my results and was able to get my badge. How many people can you handle it? Because there was no light?
Harry Brelsford
It just works. Yeah, that's really cool.
HiVi concierge
Yes, weactually worked really hard to plan this event to have enough staff for this. Yeah. And we can actually see 1000s of people within some hours. Yeah, because we have a really good flow, you could actually pre register if you have our QR code ahead of time. So like the time that you're going to be writing the check you in and right go ahead and get tested. And within 1015 20 minutes, you get the text with the results. You can also download an app where you can actually see the report if you ever need to to show it as well, the actual report, you can do that as well.
Harry Brelsford
What other lines of work are you into this? by that? I mean, like rock concert, this corporate parties, look, what else can you do?
HiVi concierge
Sure, absolutely. We do conferences, events, we do concerts. We did a big concert Live Nation a month ago. We're in the works of doing other events for them as well. So we're doing big things. Yeah, no, keeping everybody safe.
Harry Brelsford
Yeah, like I said, I'm impressed. And folks, look over on the screen, you'll see that digital thermometer thing I was talking about. And then this was sort of like the old hospital for lack of a better word, but I might I applaud, I applaud. Thank you.
HiVi concierge
Thank you. Absolutely. Thank you. Absolutely.
Tim Kubiak
Thank you for asking to say one if you want to scan it. Sure.