Time to move forward with your better self. There is a time and place to give your time and effort to bring joy to underserved communities and the pandemic has certainly created interesting caring and giving opportunities. One Million Smiles is simple: send greeting cards to senior citizens living in assisted living centers and nursing home to bring a smile to them during these sad and lonely times.
Most facilities do not allow outside visitors to keep everyone (including the health care providers) SAFE but that also increases the loneliness so many loved ones are experiencing right now.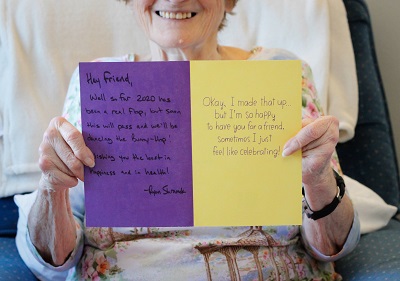 Figure 1: Happy senior citizens received greeting cards during a pilot program with Bayview Retirement Community.
Call to Action
We are calling all members of SMB Nation (primarily comprised of Managed Services Providers (MSP), IT Pros and channel partners) to send one or more greeting cards to senior citizens. It is very easy to participate:
Sign-up HERE and we'll send you the One Million Smiles Resource Kit PLUS a list of participating assisted living centers/nursing homes that are eager to receive your greeting cards. The procedure lists where to find low-cost and no-cost cards, a few sample happy messages and safety procedures (e.g. do not lick the envelope shut).
Nominate an assisted living center/nursing home HERE. Perhaps you have elderly family and friends in an assisted living center/nursing home that you feel would like to participate in the One Million Smiles initiative.
More Dets
It is as simple as it sounds: send greeting cards.
But there are some delicious insights to consider.
If everyone in the SMB Nation community sent 20+ cards, we'd quickly achieve a million smiles.
Family fun. Your children, spouse/partner can participate too! With nearly all educational delivered online and many people working remotely, this is the perfect opportunity to have a greeting card party as a family and create/write greeting cards for the underserved.
The One Million Smiles offers a chance for you to unleash your better self and do good. If you are reading this, consider yourself a privileged individual (our demographic is a technology professional). This is your way to easily give back with a modest time commitment. The time is now. Now!
Backstory - How This Happened!
To understand the backstory is to motivate you to prioritize participating in One Million Smiles.
Ms. Elisabeth Vanderveldt, a former SMB Nation member and now working at Microsoft, made a single social media post recently about sending greeting cards to senior citizens who couldn't receive visitors because of the pandemic. I replied that I'd like my Mom to receive a single greeting card (see Figure 2).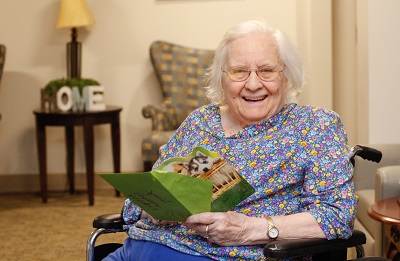 Figure 2: Diane Brelsford (my 90-year old Mom) receiving a greeting card in the One Million Smiles pilot project! She even received one from Ms. Vanderveldt.
The rest is history as a series of brainstorming sessions upped our game to create a worldwide campaign called One Million Smiles. I've pledged the full resources of SMB Nation including staff and monies to launch, coordinate and manage this global initiative during the pandemic. This is a case of a skunkworks project going mainstream.
We undertook and completed a brief pilot program to optimize the logistics (for example, send a batch of cards in one large envelop to a single point of contact at the facilities) and enforce privacy and confidentiality compliance as these are health care facilities. The response from the pilot was overwhelmingly positive!
The timing couldn't be better.
Thank You!
Join us in the volunteer effort to bring smiles to those who could use a smile today (and a virtual hug).
Call us at 206-201-2943 if you have any questions or concerns.
Very truly yours,
Harry Brelsford, CEO
PS – Here is a motivational story from CNN of a 15yo lady taking greeting cards to seniors! Read HERE.