Today is "Giving Tuesday NOW" and I'm interfacing with a local museum to make a permanent donation of my model sailboat collection for use to both display and use as a rotating exhibit. I accumulated these boats over my 30+ year technology career as I traveled to 46+ countries (my goal was to buy a model sailboat in each country).
I'm at peace knowing my collection will be appreciated and cared for in a museum in perpetuity.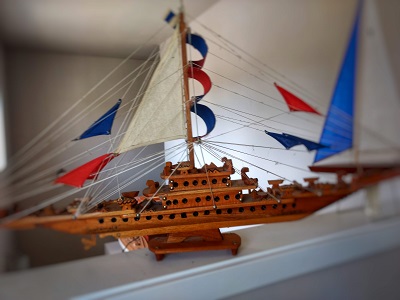 This beauty in the pic was acquired when I did several Small Business Server (SBS) workshops in the early 2000s in Guatemala and the model had to be shipped intact in a coffin to Bainbridge Island, WA!
I am following what I call the "Seattle-style of giving" by other technology entrepreneurs including Bill Gates, Paul Allen and Jeff Bezos. I've been unusually blessed by the Seattle technology sector and the time has arrived to give back as I'm able in this time of need. Just last night a neighbor asked why don't I sell all this stuff – its not how I roll with all due respect.
I'm starting to divest of significant portion of my physical assets (probably upwards of 90%) via planned giving and will carefully continue this activity over the course of the pandemic depression. And I'm adhering to Warren Buffet's philosophy of inheritances: "…should leave his kids enough to do anything but not enough to do nothing." Learn more about Buffet's The Giving Pledge.
Join me in giving - not taking!
PS – as I restart my life after my wife's sad demise from a 78-day cancer battle (Spring 2019) and spend more time in the Texas Hill Country outside Austin on the Llama Ranch, I determined that sailboats and Llamas don't mix well. They don't even know what sailboats are!
PPS - I always wanted to be succesful enough in my career to even have an art collection to give to a museum. That was one of my career goals!