This is a chronicle of my recent travel experience.

First off let me paint this picture. When I drove to Austin, Texas last Fall to be a snowbird, the trip took about five days and was just under 2,500-miles as I took a long route through Denver, Colorado to attend a three-day Ingram Micro conference (one of the last conferences I've attended since – who woulda thought it?).
When it was time to return to Seattle in mid-April, of course the COVID-19 pandemic had arrived, and I was faced with a health decision. Either a four hour flight to Seattle or a five-day drive. The economics clearly favored the $158 flight versus at least a $500 spend to drive (gas, food, accommodations). But more importantly I considered the "touches" on surfaces I'd have and be able to manage. The drive would have resulted in significantly higher contamination opportunities in truck stops, washrooms, AirBNB rooms, etc.
So off I went to fly on Alaska Airlines back to Seattle for the summer.
In the first picture, you can see that the airport departure curb area was nearly empty. That was my first visualization. The airport check-in was a breeze as well with no one in line. But I was surprised there was no screening or questioning by the Alaska Airlines employees or the TSA security check point. It was also surprising that many passengers and essential airport employees *didn't* have protective gear such as a facemask and hand gloves.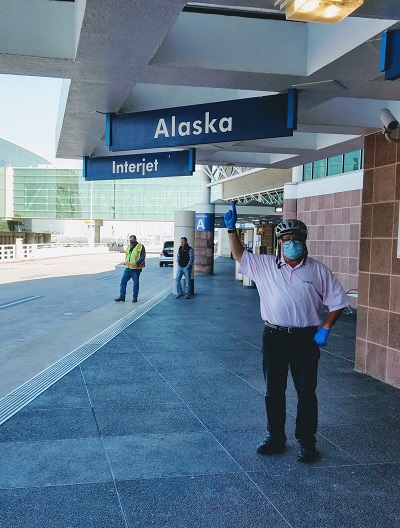 Figure 1: Drop off area.
Once I got to the gate, there were probably 25-people on the flight and only five had both facemasks and gloves on. The laissez faire attitude was startling like nothing unusual was going on.
In the second picture, you can see my protective stance in my seat. For four hours I was doing my best to stay protected and I washed up regularly. There was no food services only water and one brand of IPA beer. I asked why the beer and the flight attendant said she's didn't know (only that was what she was told to serve). The flight attendants and the airline pilots had no protective gear on. Truly unsettling.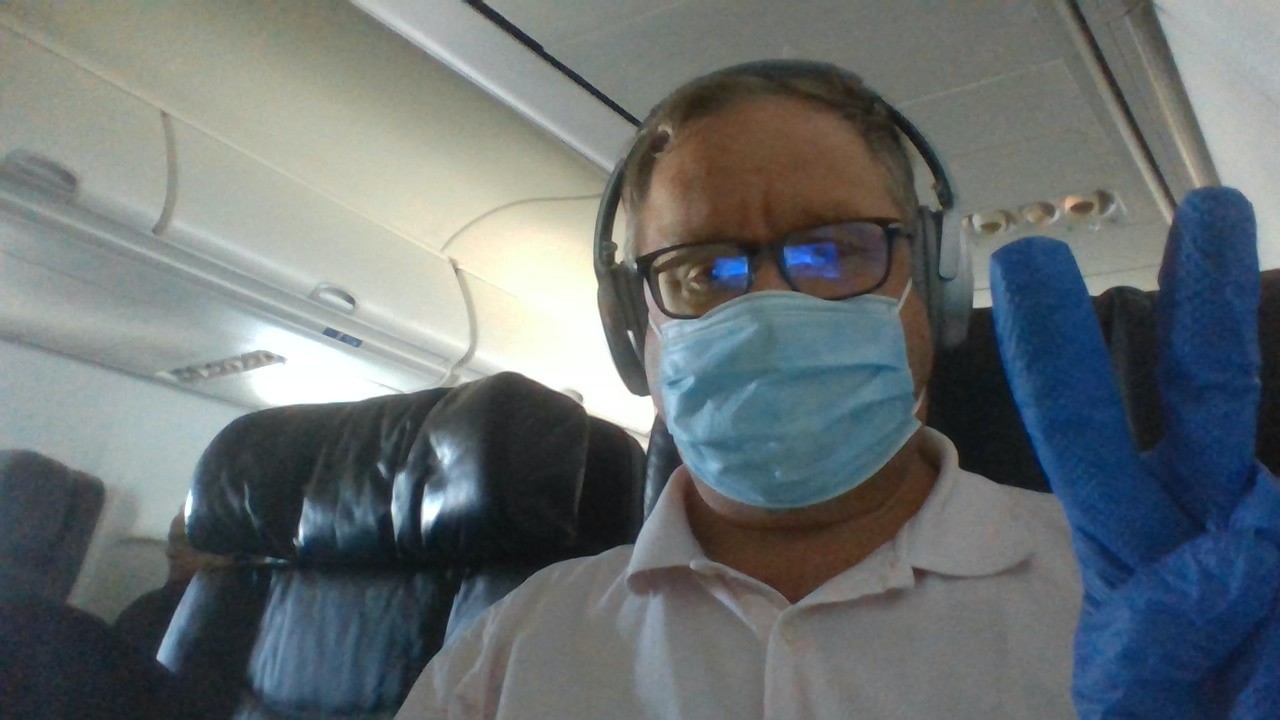 Figure 2: Free upgrade to first class.
When we landed, because there were so few bags checked in, my three bags were already at the baggage claim carousel and I quickly proceeded to the rideshare area. In fact there were so few ride share drivers that it took about 10-mins for the driver to arrive at the airport (typically the rideshare drivers are queued up just a few minutes away).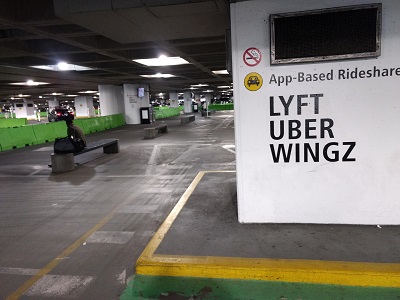 Figure 3: Empty rideshare waiting area.
Another look at life as a traveler in the COVID-19 pandemic is that commercial long-term parking lot, typically full, was nearly empty.
Figure 4: Doug Fox parking lot empty
So the final look at my planes/ride share/ferry travel adventure is indeed the ferry ride from Seattle to Bainbridge Island. Probably 50 people on the afternoon ferry run that would typically be north of 1,000 passengers.

Figure 5: Empty ferry ride to Bainbridge Island.
Takeaways
Reflecting on my trip, I think about the lack of testing, questioning and strict safety on my flight. Would I do it again? Yes – to save time and minimize surface touch points versus driving across the country from Austin to Seattle. I was safely home in just about a half-day.
PS – Flights are super cheap right now.
UPDATE: Watch my Tech Tuesday show on the travel-travel topic with Northwest Digital News and Kevin Hunter right HERE.