Wow – I'm a mere student of capitalization tables ("cap table") but Kaseya has blown up the perceptions I had about the SMB MSP area. At it's recent Kaseya ConnectIT event, it announced another investment round it has completed an investment of more than $500 million to accelerate
its record growth, customer momentum and innovation of IT Complete, the industry's first-and-only purpose-built, comprehensive, end-to-end, IT infrastructure management platform for MSPs and SMBs. Investors include TPG, a leading global alternative asset firm, and Insight Partners, an existing investor in the company. It's resulted in a cap table valuation of $1.75B – that's the part I never thought I'd live to see in the SMB MSP space.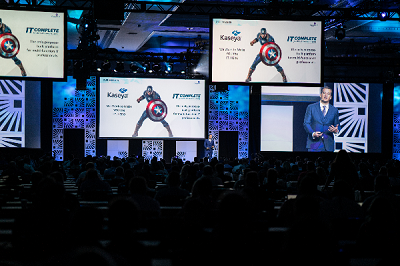 There are two ways to view this announcement: natural maturity and concentration of power.
Natural Maturity. We're not getting any younger as a demographic and the automation acceleration in tech has resulted in the natural maturity of consolidation motions. That means MSPs can now literally work with one vendor for it's portfolio of offerings. It's also a tell tale sign that small MSPs need to consider a similar consolidation strategy to remain viable – and that could ranges from partner-to-partner (P2P) teaming to forced mergers.
Concentration of power. It's unlikely the FTC/FCC will scrutinize our beloved SMB MSP space (like the T-Mobile/Sprint merger) – yet. But I'd be remiss if I wasn't amongst the first analyst to raise concerns over the concentration of power. It's too early to sound the oligopoly bell yet…but…there are four major MSP ISV conglomerates that I can think of off-hand: Kaseya, Datto, ConnectWise and Continuum.


ID Agent
Also announced at ConnectIT was Kaseya's acquisition of ID Agent. This gap filler play (ID Agent brings dark web scanning to Kaseya) was very much top of mind amongst attendees and I caught up with Kevin Lancaster, CEO of ID Agent. From humble and shy roots as a security vendor in the greater Washington DC-area directly serving government and other clients, Lancaster shared that ID Agent's entry into the MSP market just a few years ago really accelerated its organic growth and caught the attention of the overall SMB MSP community and ergo, Kaseya. Lancaster told me he looks forward to more resources but will enjoy the autonomy to operate independently. This isn't the standard playbook where the founder exits after a "jail sentence" of one to two years.
We'll keep an eye on Kaseya for ya!