In a recent chit-chat at IT EXPO in Fort Lauderdale, FL, I pulled Michael Slater, Technical Solutions Manager (PBX, UCaaS) from his busy SherWeb booth to discuss evolving partner demographics.

The context was what was the basic demographic at the show but his insights extend further into the industry itself.
For example, it's all too easy to magnify the role of the pure play Managed Services Provider (MSP) where there is the perception that 100 percent of MSP revenue is from monthly recurring revenue (MRR). Such is not the case.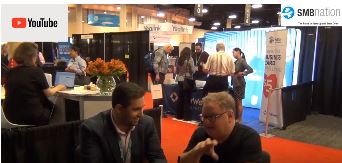 In the interview HERE, Slater imparts that "…there is a legion of break-fix professionals that are used to selling on-prem products (data, telephony). We're seeing IT EXPO attendees who never part of the cloud movement and now interested in learning more." Slater shared. Again – it's all in the interview PLUS a tip of the hat to SherWeb cause marketing (I covered that HERE).