Too often we make an assumption that everyone in the SMB Nation community is a seasoned professional in the IT services field. So I dunked under a cold bucket of water to clear my mind and revisit the idea of helping newbies enter our managed services provider (MSP) profession. We NEED YOU
as the field has a natural burn-and-churn plus with the rapid transformation in the technology field, new viewpoints are welcome!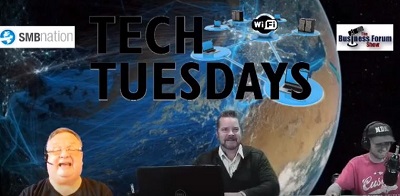 Figure 1: Tech Tuesday.
Watch this segment of Tech Tuesday HERE, created with my publishing partner Northwest Digital News (NDN).
And for your benefit, here is a read out of the Tech Tuesday segment – save it as these are high level tips and trick on how to be a great MSP.
MSP Bits and Bytes
Show up! 80 percent of success is just showing up, according to Woody Allen, the famous. It's true.

Minimize mistakes. A huge part of business success is simply avoiding mistakes.

Communicate. Your words will serve you well as an SMB consultant and set you apart from others when serving clients.

Master a technical niche. Find something that you're both competent and interested in and go for it. The rewards will follow.

Savor the moment: working for yourself. Take five, walk outside on the desk, feel the warmth of the sun and give out an enormous Wahoo! You're making it as a self-employed SMB consultant.

Grow with each opportunity. Some engagements will stretch your technical skills. Some engagements will stretch your business skills. Grow and learn something from each engagement. Be able to say "I learned something new today!"

Don't overbook yourself. Hopefully you didn't get into this business to be so busy you become forgetful and stressed. This is another way of saying don't forget the names of your spouse and children.

Watch your finances. Enough said!

Don't sweat the small stuff. The professional relationship between a client and an SMB consultant is a marriage. Choose your battles carefully.

Pay your taxes. Enough said!

Mentor others. Here's your chance to easily earn Karma Dollars! Help someone out how is new to the technology consulting field.

Thrive and survive under any conditions: A great consultant can do well in any economy based on mastering the following skills: (1) having a technical niche in demand, (2) strong communication skills, and (3) above average client management skills.

Be in the top 10 percent of your peer group. You'll know it when you get there. You'll start to show up on "Who's Who" lists in your local business papers.
Take Next Steps! Ponder the future. Read futuristic viewpoints about the technology area