A rising tide raises all ships – that would be the basic story for Small Business Saturday 2018. Say what you must but the economy on Main Street is humming with job and wage growth followed by Goldilocks conditions of a healthy housing sector, modest interest rates and still strong domestic equity markets. I report on Small Business Saturday
HERE from several different vantage points: small business interviews, my own analysis, an interview with a small business marketing vendor (where we discuss Small Business DNA) and a double-click into an MSNBC "Morning Joe" segment.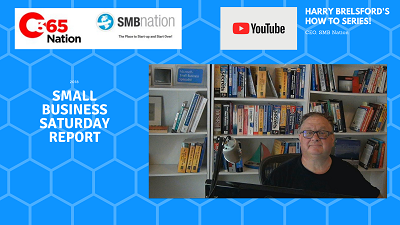 Watch my video report HERE.
What is Small Business Saturday? It is in it's 9th year as a dedicated holiday following Black Friday to give a shout out to small businesses everywhere who want/need/deserve and most importantly, have earned your good business. Started by American Express (an on-going sponsor), the holiday has grown significantly but still hasn't captured the hearts and minds of shoppers like Cyber Monday or the aforementioned Black Friday.

A tip of the hat to SherWeb, a Cloud Services Provider (CSP) serving Managed Services Providers (MSP) in the SMB Nation community for sponsoring a Small Business Saturday contest. We appreciate the extra energy to encourage all of us to participate in Small Business Saturday. On December 1, we will announce one lucky SMB Nation member who, via contest participation, will win a $1,000 AMEX pre-paid card for holiday shopping!
I have covered Small Business Saturday for years and encourage you to revisit these conversations:
2017 Coverage HERE as part of Harry and Jenny's excellent adventure!
2016 Coverage HERE
2013 Coverage HERE