Late last month I met with Lenovo North America president Emilio Ghilardi for a 1:1 interview at the Lenovo Accelerate 2017 conference in Orlando. While I'm sure I was supposed to ask about SKUs, offers and incentives – standard OEM speak - I took a left turn without permission
for forward looking statements concerning analytics and IoT. Ghilardi was up for the challenge.
If you want to fast forward the movie, Lenovo takes a long-term view and won't introduce something before it is ready. I can appreciate it. Better to study and get it right rather than rush it.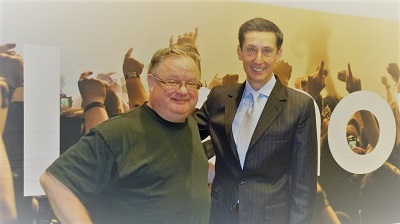 Analytics
I wasn't hearing Lenovo articulate "analytics love" in the president's keynote speech (versus Watson love at the recent IBM PartnerWorld event). Ghilardi hit it head-on: "First of all, we made an organizational change in March 2017 and created a worldwide team that combined resources and has a charter to have the competency in analytics. This is an internal team for now." Ghilardi shared. "This is step one. Step two will be to go outside and serve the Lenovo ecosystem including partners. This second step is six to nine months away. We have a roadmap and we are not making a lot of noise because we like to have things ready before we talk about it."
Concerning partners, I offered that MSPs don't market themselves well and marketing is increasingly where the IT spend is going. Analytics can be a door opener. "We know that some of the reasons that some startups can be successful is that they weave analytics into their software offering." Ghilardi concurred and concludes that analytics is a theme moving forward.

Reseller Partner Feedback
Ghilardi turned the tables on me and asked how resellers and partners enjoyed Lenovo Accelerate 2017. The feedback I had received, mainly social at the conference, confirmed that "computer guys/gals" view an OEM relationship as a pillar or one leg of the stool.
IoT
"We're not ready to talk about IoT. The truth is, in my humble opinion, is that there are too many people that talk about IoT without knowing what they are talking about." Ghilardi said. "We prefer to have our act together and a story to talk about. That will probably be next year."
We both agreed the IoT is still being defined. What is the ecosystem? Who is going to control IoT? All good questions.
Ghilardi offered up an interesting example concerning the home of the future. "I have friends in this line of work, so called eHome. One friend was telling me that the results were way below expectations. Ghilardi went on to say its fundamentally because there is not a standard. "Things don't talk to each other and there is not an agreed upon home operating system. It's not clear right now and people are just scared to go and invest in this and spend money on things that don't talk to each other."

Lenovo has its labs working on its vision of IoT: office of the future; school of the future, health care of the future, etc. Will Lenovo expand that to smart assistants (read Amazon Echo-like devices). Bottom line: You can't approach IoT as "one IoT" according to Ghilardi. Where does the intelligence reside? Will it be Lenovo's vernable server-side data center offering that holds the data and intelligence? "In my humble view, the IoT mix has to go by verticals. There isn't going to be one IoT solution." Ghilardi concluded.

PS – I couldn't resist asking about the NFL marketing agreement that expired last year. It was four years in duration and the NFL has been a Lenovo customer for over ten years. Just to level set, the NFL agreement concerned servers, workstations, laptops – Microsoft was for tablets. Fun fact – Lenovo provided the technology for the Beijing and Turion Olympics.
PPS – We discussed that Lenovo Tech Wheels tour – something I covered HERE.