Editors Note - this is a excellent partner/customer event in the Seattle area in a month. Please support the community (and yes- you can bring your toughest questions about Azure in small business, etc.)

Your Business, Cloud Ready in 100 Days
A one day immersive experience designed to help you build not just the knowledge but a roadmap to becoming a cloud ready business. Cloud readiness means that you and your business have the ability to:
• Generate new customers and recurring revenue
• Quickly identify areas for Cloud investments
• Strategically invest time and resources to build a Cloud Practice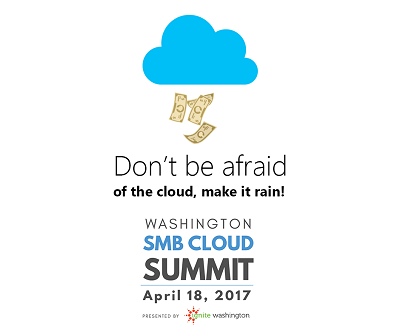 We are providing a proven model that will deliver results for you in terms of growth and help your customers transform their businesses.
This trusted methodology has been adopted by the Microsoft Partner Community and endorsed by leading Tech Companies, along with the Economic Development Commission of King County and Seattle and City of Bellevue. This summit is focused on supporting Independent Software Vendor, Resellers, Managed Services Provider, Cloud Startups and System Integrator to build and grow their cloud practices. Join us to learn how to become cloud competent partners with leading Cloud Technologies companies such as Microsoft, Salesforce, Google and others.
We have invited cloud experts who not only understand the cloud but have built their businesses on it. They will share knowledge, expertise and open the door for partnerships accelerate your cloud business.
Space is limited to 100 participants and will fill up fast.
Register - http://bit.ly/2mOEQ99
Use Discount Code: SMBCLOUD to get 10% discount during the registration process.