This is the all of those starting up – attending our roadshow workshops is a great first step!


Until I sat down to write this update on our Office 365/ Windows 10 Roadshow, I hadn't truly thought about us behaving similarly to a political campaign in the Spring primary season, but there are some parallels. We launched last Tuesday in our own state (favorite son) in Redmond. The capable audience enjoyed the expert content delivery from our own Grant Thompson
was not only well-received but the launch feedback has allowed us to update the curriculum. That's a common training function – improve the content for each city moving forward.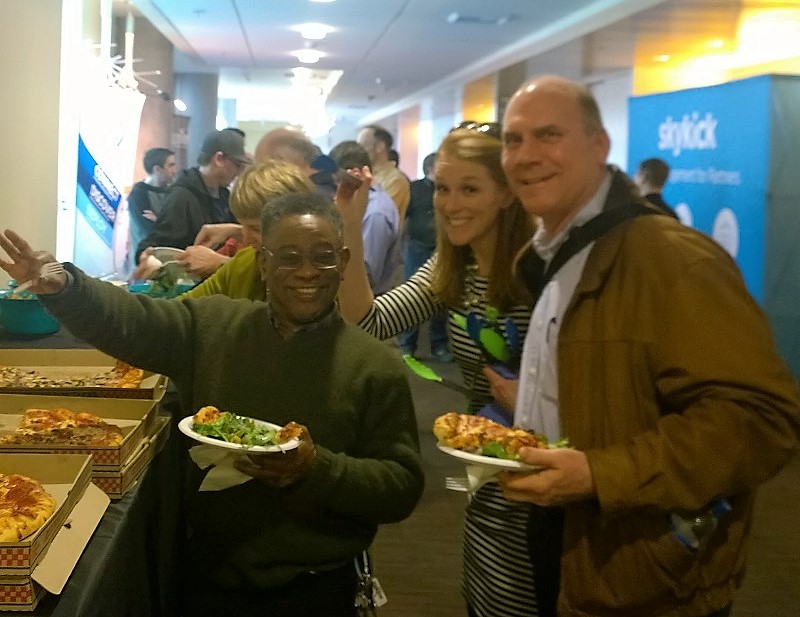 Attendees enjoying PIZZA UP at our Redmond workshop - February 23rd!
Another parallel is that we're road warriors on a roadshow. We're going from state-to-state over the next few months. The full schedule is here. There is still time to sign-up for New York as it's Monday, February 28, 2016. So click over and sign-up for the following future dates:

• New York City, February 29th
• Atlanta, March 9th
• Chicago, March 11th
• Washington DC, April 12th
• Charlotte, April 14th
• Phoenix, May 10th
• Los Angles, May 31st
• San Francisco, June 2nd
So we focus on the technical aspects of Office 365 and Windows 10 in our roadshow workshops. Perhaps the most popular speech was the Office 365 Security speech. Timely, spot on and ready for consumption.
Join us – the event is complimentary. Discover more and sign up here: http://2016roadshow.smbnation.com/