The good news is that the annual BlackBerry conference, known as BlackBerry Live (formerly BlackBerry World) was held in Florida last week. The
bad news is that because Florida is so pleasant, events held there always compete with the sun and beach. However, that didn't stop our own Chris Bangs from attending as press and filing this report.
See below for more on what Chris observed during his trip to BlackBerry Live last week:
Capable. Chris reports around 3,000 attendees, proving yet again that BlackBerry is in it to win it. There's nothing like a loyal customer base to pivot off of when re-inventing yourself.
Momentum. Coming fresh off the SMB 150 awards at Microsoft Redmond, BlackBerry danced into Orlando as "one to watch" on Wall Street. Its z10 mobile device, given to each SMB 150 recipient, has surprised to the upside.
Furthemore, it came to our attention per a TechRepublic poll that BlackBerry will start its real recovery with the long awaited Q10, which has an actual keypad. According to wireless analyst Jeff Kagan, "Blackberry users love their keypad." Kagan also noted via a ZDNet blog that "two-thirds of converts to competitors will be tempted back to Blackberry; the fact that IT and business professionals are even considering Blackberry again is a win for the company.
With that being said, I'd personally consider a "long position" on BlackBerry!
Announcements. The Q5 was announced and is available overseas in developing markets. We covered it here on our blog last week.
Developers. Chris reports the show was primarily stuffed with coders. That's something BlackBerry NEEDS to drive successfully as more apps equal more customers.
Partners. Ditto. BlackBerry needs more partners. At its keynote and break-out session, an excited audience peppered the BlackBerry speaker(s) with rapid-fire questions, which included where to sign-up for the BlackBerry partner program. The answer was simple…click here to find out.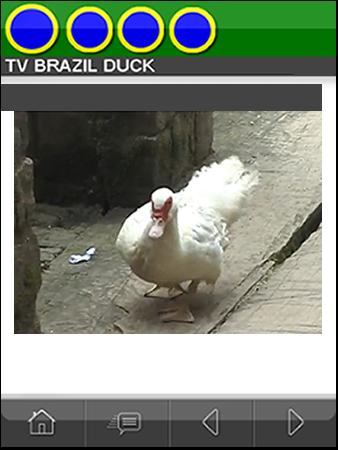 Shout Out: TV Brazil Duck! TV Brazil Duck is the newest BlackBerry app from Driveframe. The app features video of a popular Brazilian duck searching for water. Will our friend make it? Get the app and see. TV Brazil Duck is part of Driveframe's original travel videos made available through apps. Other titles include TV Argentina Boca Town, TV Hawaii Oahu Beaches, TV Hong Kong Art, and much more. Designed for travelers and those with little time, TV Brazil Duck is sure to entertain.
Download: http://appworld.blackberry.com/webstore/search/driveframe/?
Commercial: http://youtu.be/KH6Z1IBPz9o
With additional reporting by Chris Bangs, VP of Sales & Marketing, SMB Nation