Small and Medium businesses are already balancing the cost of doing business and the margins continue to get thinner. Between the unpredictable supply chain raising costs, labor cost on the rise, and finding talent, small and medium businesses are having to make hard decisions when it comes to pricing.
Harry Brelsford sits down with Ted Hulsy to discuss how inflation is changing the dynamics of business for MSPs.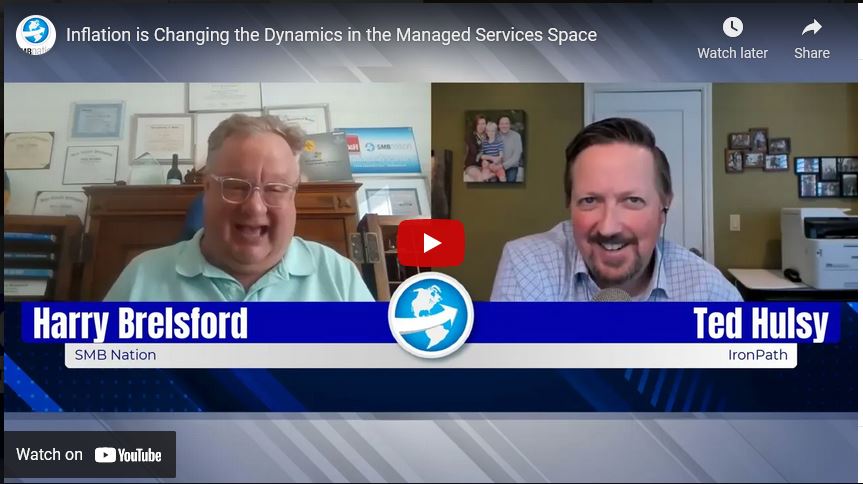 Video Transcription
Harry Brelsford
Hey, nation nation back with Ted Halsey, Ted, I, you know, I was thinking the other day, I think I've known you maybe 20 years. Was it SonicWALL? It was quite a maybe 15 years quite a while ago.
Ted Hulsy
Yeah, yes, we SonicWALL was a big sponsor of SMB Nation in the early years, we had some great shows up in the Pacific Northwest. It was always awesome. So,
Harry Brelsford
yeah, well, I'm glad we stayed in touch. I mean, that's what it's all about, folks is to tell about that personal network. So for this quarter, talk to me, so you're, you're back from the HTG or the IT evolved peer groups? Forgive me, I'm so old. And you had a couple of topics that were top of mind go for it.
Ted Hulsy
Yeah, I think the big topic that was we covered a lot, you know, covered a lot for the full two days was just the way inflation is really changing some of the dynamics in the managed services space. The biggest thing I think MSPs are struggling with right now is labor cost increases. I mean, it's it's showing up and trying to recruit new people, it's showing up with raise requests from staff. So there's a lot of pressure on labor costs. That's coming from all this inflation in the market. And, you know, I companies need to take concerted action. And I think we talked a lot about, you know, how do you tactically and strategically rollout and manage price increases for clients? And to do it in a way it's not disruptive? And it's fair, and it's well perceived by clients and that sort of thing?
Harry Brelsford
Yeah, yeah, I've actually kind of done that myself, or well, let me put it this way. As you know, I'm consulting more to industry, all the time really enjoying that kind of work. And I implicitly increase my prices. Now, some of these are new accounts, and they wouldn't know the difference. But I took the advice of Carl spellcheck, okay. And it basically amounts to and I'm going to make up some numbers, but would you rather, Bill is a expert at 300 an hour? And darn it, maybe only get 10 hours a month? Right? It's it is going to filter people out? Or do you want to build at $30 An hour and have 100 hours a month?
Ted Hulsy
Right, that makes it? Yeah, and that makes the math easy. And for new accounts. It's it's not a big deal. I mean, it's you can you can roll roll those price increases out dynamically. It the bigger issue is that the managed services business is all about recurring revenue. Yeah, huge part of the business is your is your installed base. And I think people run into a pickle a little bit, if they don't have really solid service agreements in place, if they don't have baked into their contractual language, inflation adjusted price increases that kick in automatically on an annual basis. If you don't have those things, then you really need to take aggressive action and really go out and have some serious conversation with your clients about increases in rates. The other the other tactical thing people need to do is just make sure you're on top of your, the, you know, auditing, the number of employees and services you're providing. Sometimes people like companies will add 510 employees and the price won't get adjusted. That's just not going to fly in this sort of environment. You need to be maximizing every dollar of revenue from every single service you're delivering.
Harry Brelsford
Yeah, yeah, absolutely. Well, um, what show might we see you at next? I think there's an IT Nation Security show in June or something or where might you
Ted Hulsy
be? Well, I always get out to all of the IT nation evolve events and it nation connect, but I'm just fired up that events are happening, more and more things are opening up. People are seeing trade shows and relationships, as I mean, we're very much in the post pandemic phase. And I think people are just hankering to get out there and see each other and be out on the road. So I'm getting out to more shows more and more, and I look forward to seeing everyone out there. All right, Ted, we'll
Harry Brelsford
talk to you next quarter. Thank you. All right. Thanks, Harry. Take care now. Hey, another news. Oh, and I'll send you the prospectus over I don't know if we're going to meet our minimum of six sponsors. So I have told you probably a passing I'm on the board of a really small private equity firm in Tampa Bay that's rolling up in this piece. It's only about six guys. I don't want to mislead you. Okay, but me I'll send you an email with their link. But we're trying to put together a six city road show coming at it from almost a Wall Street perspective, not not a channel pro vendor pitch perspective. And I'll send you the prospectus. I sent it to Arlen and he's running it up the flagpole at ConnectWise because you know, the idea being if we all team in put 100 MSPs in the room so Princeton, New Jersey, Chicago, LA you know, some of Dallas some of the major one Tampa if you know because it ConnectWise I've already secured TD Synnex but I can't do it without six months. answers, right. I can't do what I did at SMB Nation, the end where we were underwater on events. It's like, Guys, I can't do
Ted Hulsy
it. Yeah. Right. Okay. Yeah, we're
Harry Brelsford
looking at June, July, August. Let me send it to you. First of all, I'd love your feedback. Number two, you may, it may get you thinking like, oh, you know, so and so client, they should put themselves in the room. And the idea being behind it, that an MSP that goes to a one day m&a workshop that's really actionable is a pretty serious MSP. Right, and that's the kind of MSP a sponsor would like to get to now.
Ted Hulsy
That's right, that's right, say so that the target is vendor sponsors. And the the pitch to the vendor world is these are MSPs that are focused on the strategy of their business. And they're going to take a whole day to work on the business they're serious accounts.
Harry Brelsford
Correct? Correct. Yeah. So okay, you know, 600 leads combined through six cities and or we'll do a webinar to close the gap. You know, media yo is to make good if you have a gap. But yeah, let me send that to you now in the the link of the private equity thing, you know, I'm gonna give like I say, I've got one signed contract. I need six sponsors to make it roll. And I'll do that now.
Ted Hulsy
I appreciate it sounds good. Harry. I'll I'll have a look and share it with the share it with some folks that may have interest and or give you a short list of ideas, people you
Harry Brelsford
can reach out to cool okay. All right. All right. Thanks.