(C) Copyright SMB Nation

I'm reporting from the surreal scene this Monday morning called the Las Vegas Strip where I'm here at The Cosmopolitan for the first day of the annual Continuum Navigate conference. Continuum is a major remote management and monitoring (RMM) vendor in the SMB Managed Services Provider (MSP) segment.
It feels a lot like the sunny fall day long ago called 9/11 where people
are walking around silently, the outside noise is either "silent" or I'm not hearing it, lost in my own thoughts. By now you are likely aware of the tragedy that occurred last night, October 1st, at the
Mandalay Bay Resort at a large outdoor concert hosting over 22,000 people. During the main act, a lone gunman, according to police, opened fire killing over 50 individuals and wounding 500 plus. Again – it's surreal to walk the strip this morning and witness a variety of reactions.
Continuum's Statement
Having hosted large conferences, I'm well aware of event risk and my compliments to CEO Michael George and the Continuum team for marshaling communications to the attendees and vendors and also offering the flexibility to accommodate individual participation preferences in light of the shooting tragedy.

"We were incredibly saddened by the horrific event that took place in Las Vegas on Sunday night, and our thoughts go out to those affected by this tragedy. At this time, we can confirm that all Continuum team members present in Las Vegas for our Navigate user conference are safe and unharmed, and we are not aware of any of our partners being present at the concert or harmed in any way. Our priority is the safety and wellbeing of our team and our partner community, and we are working closely today to ensure that they have the help and support they need. We understand that some of our attending partners may wish to change their plans, and want to assure them that they should not feel obligated to attend in light of Sunday's events. If they do wish to change or cancel their plans at Navigate, they can contact Mary Crogan at This email address is being protected from spambots. You need JavaScript enabled to view it.." George said.

Tragedy Visualizations
Today is one of those days where you will remember where you were when the tragedy struck. When 9/11 occurred, I was packing my suitcase to fly to Boston to work in the Gateway Computers booth at an ITEC event at the downtown World Trade Center (WTC) to tell the Small Business Server (SBS) story. That event was quickly cancelled. Today I was awakened by the tragic news (CNN. MSNBC) at 4:00AM as I prepared for my 6:30AM flight to Las Vegas. Upon landing I saw the Mandalay Bay resort (Figure 1) - these are pics I took just a bit ago.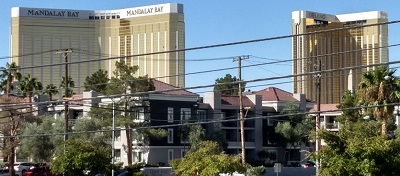 Figure 1: The shooting event was on this side of the hotel. Look closely above the power lines and you will see the sniper's nest on the 32nd floor.

In the next few figures, I show my journey walking up the Strip to the Continuum Navigate conference.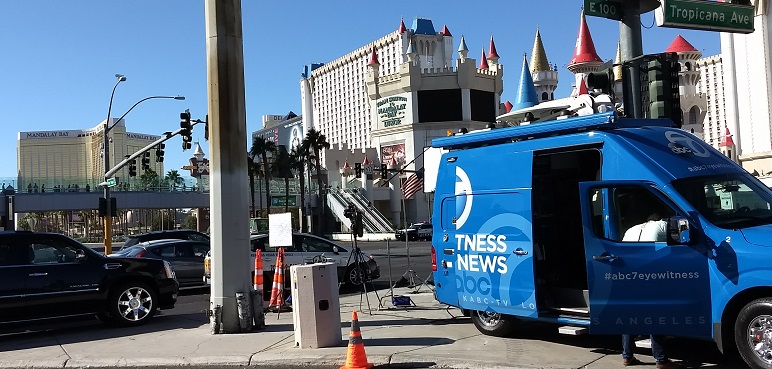 Figure 2: Local TV stations covering the tragedy. The Strip is closed from East Tropicana southward which is why this news crew is here. Watching national cable news and the local TV stations side-by-side is very interesting. The local TV stations are much more knowledgeable about the situation.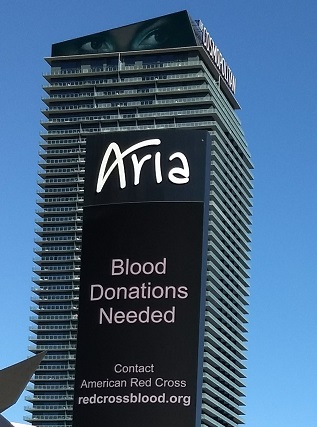 Figure 3: The Continuum Navigate event is being held at The Cosmopolitan (about one mile north of the shooting scene). The sign in front is asking for blood donations. Local TV reports indicate that there is a four hour wait to donate blood. My intentions are to donate blood on Wednesday afternoon on my way to the airport for my flight back to Seattle.

Figure 4: My destination: Continuum Navigate. The keynote is today at 5:15pm and the Continuum staff is working to rework the gathering with profound sensitivity and respect extended to the community. I'll report on it.
I'm out of words. Your thoughts and prayers and support are appreciated here on the frontline in Las Vegas. I'll report back with daily updates.