Five years ago this month, Microsoft announced the end of the popular Microsoft Small Business Server (SBS) product family. A minor announcement made over the slow July 4th holiday weekend in 2012 was rapidly picked up by the community and everyone had an opinion. SBSers were given an 18-month runway to retire/migrate or otherwise mitigate the drop dead date of SBS (December 31, 2013).
Five years later this is how it shook out.
Technical Model. With the passage of time, wise minds in the community such as Karl Palachuk have concluded that there is no longer a technical need for SBS. The computing paradigm has changed back to, in effect, time sharing. This school of thought asserts that Office 365 gives you everything SBS was plus much more (I just attended the Office 365 Meetup last Thursday night in Redmond and learned a lot about the internals of Microsoft Teams). Speaking for myself, I miss SBS but I love Office 365. In particular I like the mobile support for Office 365. Arguably most of my computing on a bits and bytes basis is mobile traffic (e.g. checking my phone on the ferry commute).
Business Model. Post-SBS, ISVs adore subscription revenue and many SBSers have adopted the MSP-based recurring revenue model. In the end it's a more rational model and results in a higher acquisition value because of dependable income streams being capitalized.
Community Culture. But not all SBSers are on-board. In our popular "You Know You Grew Up with SBS If…" you will find old school SBSers who have clients demanding on-premises server-side solutions. Others miss the higher margins associated with project work (putting in the SBS server; babysitting it). These folks have grievances that there is "nothing to do" with Office 365 as the workload has shifted to data centers.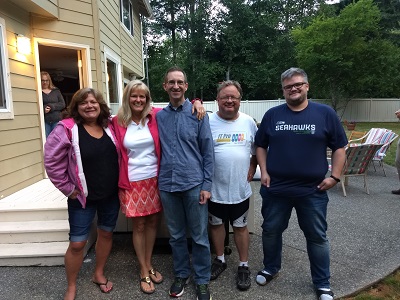 Figure 1: Old School SBS BBQ at Nancy Williams (left) house with Linda Banks, Steven Banks (MVP), myself and Oliver Sommer (MVP) on July 19, 2017 in Poulsbo, Washington.
Say what you must but we lost SBS community momentum. It was just never the same after SBS went end-of-life (EOL). There isn't the same passion in the Office 365 community as it is perceived as a utility with a monthly bill. Sadly its safe to say the good old SBS community certainly hasn't grown over the past five years. Several SBS groups have stopped meeting including BasBits (San Francisco-area). But a couple are alive and kicking including PSSBS (Seattle) and NYSBS (New York).

SBS re-do attempts. There have been several attempts to recreate the SBS product from a technical perspective.
Roll Your Own. Ardent SBS Most Valuable Professionals (MVPs) concocted numerous SBS-like solutions since the SBS EOL proving it can be done. This "inner geek" approach met a gap in the SMB market and resulted in many great presentations at workshops and conferences.
SecureGuard. This European company is at market with an SBS alterative. I spoke with SecureGuard at a couple Microsoft Worldwide Partner Conferences (WPC) over the past few years but did not seem it this year at Microsoft Inspire (the new WPC). Essentially it's solution, known as Office Cloud Appliance (OCA) is a hybrid solution based on Windows Server 2012 R2. It made a two-year push into the North American market briefly with a Business Development Manager based in SoCal.
Zynstra. This UK-based firm has a special place in my heart. I visited its HQ in Bath, England a couple times several years ago. With significant investor backing, Zynstra made a great push into the void created by the SBS departure. I have a lot of respect for the business acumen of the management team and applaud its pivot to align with HPE. In April 2016, HPE selected Zynstra to power it's HPE ProLiant Easy Connect Managed Hybrid Solution. I've had interactions with this team at HPE over the last 18-months. But to be honest, I haven't seen the adaption uptick that I'd offer everyone was hoping for.
ClearOS and HPE. Our own SMB Nation community member Michael Proper (CEO, ClearCenter) has built a real business in the SMB server market via his open-source operating system. Last month ClearCenter entered into a significant agreement with HPE to supply its ClearOS as the operating system on HPE ProLiant servers. Proper is tapping into the SBS gap filler opportunity with this hybrid solution. linkedin.com/in/michaelproper
Microsoft and Tech Data. While I was attending Microsoft Inspire a couple weeks ago, Tech Data made a splash by announcing Small Business Cloud Server combined with Microsoft 365 Business to create an Azure-based SBS. Scott Bekker at RCP Magazine commented "…a soup-to-nuts back-end offering aimed at the needs of small businesses and the partners who sell to them but one that is entirely in the cloud, addressing the increasing preference among smaller customers to not have to worry about infrastructure in a wiring closet." Read Bekker's excellent "Tech Data Makes Play for Old Small Business Server Niche" article here. My take on the Inspire announcement? I was asked by several folks if this is the rebirth of the SBS community. I'd offer such isn't the case. You can get the full context of my thoughts on Inspire and the above announcement by watching my recent analyst webinar here.
Conclusion. How has the SBS EOL impacted you? Feedback always welcome at harryb at smbnation dot com.