The fifth iteration of DattaCon is well underway with over 1,000 partners attending. It's grown significantly in part because it has a major reason for being – the underlying Datto technologies that the partners want to learn more about.

This morning's slew of keynotes featured CEO Austin McChord making a variety of announcements. Most made perfect sense with respect to a portfolio product roadmap. I question one initiative and I'll get to that in a moment.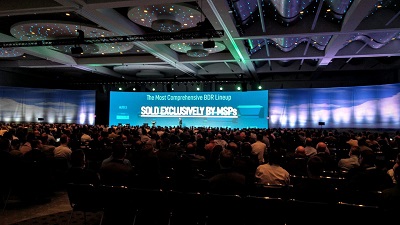 McChord delivering DattoCon 2017 keynote in Denver, May 6, 2017
By the numbers, here are the major announcements.
1. An expansion to Datto's flagship all-flash SIRIS 3X line
2. An all new ALTO 3 device targeting smaller environments
3. A new architecture for Datto SaaS Protection services
4. Updates to the new Datto Networking portfolio
5. Significant enhancements to Datto's Partner Portal

The one announcement that isn't apparent above is Datto Desktops. This is yet-another-entrant into the crowded and well-defined remote desktop/virtual desktop/VDI/Workstation as a Service (WaaS) market. The reason I'm somewhat skeptical about the product announcement is I've truly been there and done that since the early 1990s working with Seattle-based MooseLogic and Citrix Receiver sessions on NetWare. But wait, there is more. Readers will recall our significant investment in the 2012-2013 time frame in Cloud Nation, a Citrix Receiver-based virtual desktop play. Like many investments, this significantly underperformed.Finally SMB Nation has represented sponsors in the WaaS game and we always wanted it to work out. It was like dating a gorgeous woman who always had the flu. The "concept" looks great on a white board but I haven't seen it work outside of enterprise environments with compliance issues.
So as Datto goes to market with Datto Desktops, I have to assume wiser minds directed by McChord are seeing something I'm not seeing. This is akin to how the Trump team saw movement in WI, MI and PA that Clinton didn't in early November 2016. Perhaps it's a future ban on laptops on flights where you'd need a computer resource on the other side and use an easy to configure virtual desktop so you could effectively work. I don't know. I'll continue to monitor Datto Desktops.